When it comes to delivering top-tier performance and cutting-edge features, the NVIDIA® GeForce RTX™ 4080 is a game-changer that leaves no room for compromise. Designed to cater to the demands of both passionate gamers and creative professionals, this graphics card takes your gaming experiences and creative projects to a whole new level. Dive into the realms of hyperrealism with ray tracing and AI-powered graphics, all powered by the remarkable NVIDIA Ada Lovelace architecture and a generous 16GB of lightning-fast G6X memory.
Hyperrealistic Gaming
The Ada architecture, a testament to NVIDIA's innovation, unlocks the full potential of ray tracing. This technology replicates the behavior of light in the real world, creating astonishingly detailed virtual environments. Thanks to the formidable RTX 40 Series and third-gen RT Cores, prepare to immerse yourself in gaming worlds that rival reality itself.
Maximize FPS and Quality with AI
DLSS, or Deep Learning Super Sampling, stands as a groundbreaking leap in AI graphics. It's a performance multiplier, harnessing the power of the fourth-gen Tensor Cores and the Optical Flow Accelerator on GeForce RTX 40 Series GPUs. DLSS 3 leverages artificial intelligence to generate additional frames and enhance image quality, ensuring you achieve maximum FPS without sacrificing quality.
Victory Measured in Milliseconds
For competitive gamers seeking the edge, NVIDIA Reflex and GeForce RTX 40 Series GPUs offer the lowest latency (measured in milliseconds) and the ultimate responsiveness. Reflex, built to optimize and measure system latency, leads to faster target acquisition, quicker reaction times, and unparalleled aiming precision in competitive gaming.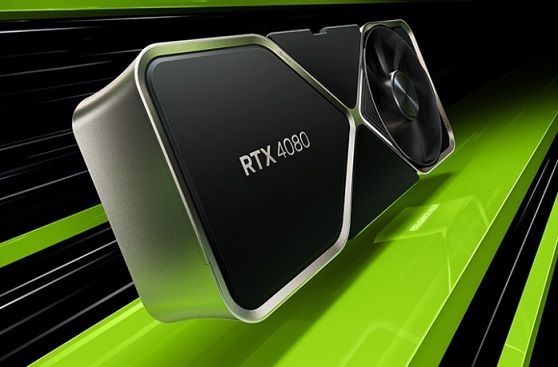 Tech Specs:
NVIDIA CUDA Cores: 9728
Boost Clock (GHz): 2.51
Memory Size: 16 GB
Memory Type: GDDR6X
The NVIDIA GeForce RTX 4080 is more than a graphics card; it's a gateway to a new era of gaming and creativity. With its exceptional performance, AI-driven enhancements, and lightning-fast memory, you'll be ready to take on any gaming challenge or creative project that comes your way. Elevate your experience and discover the future of graphics with the RTX 4080.
Asus ROG Matrix GeForce RTX 4090: Unveiling the Future of Gaming Graphics