LONDON: AssetCo plc announced that Martin Gilbert, Peter McKellar, various associates and funds managed by Toscafund Asset Management, a multi asset fund manager, have, in aggregate, acquired a minority stake of 29.8% of the issued share capital of the Company at 475 pence per share, which is approximately the estimated net asset value per share, from a number of institutional shareholders and the Board.
Below is a table showing the resultant holding of Harwood Capital Management (by virtue of its association with Christopher Mills), Cadoc Limited (by virtue of its association with Tudor Davies) and members of the concert party.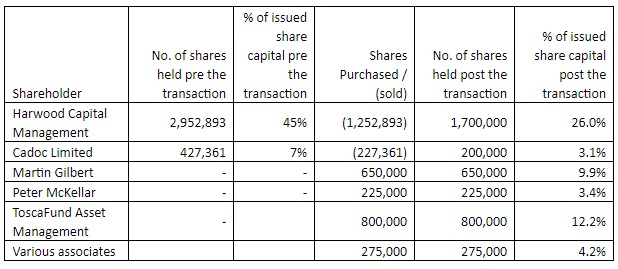 Following receipt of the necessary regulatory approvals, it is expected that Martin Gilbert and Peter McKellar will join the Board as non-executive directors of the Company. Tudor Davies, Christopher Mills and Mark Butcher will remain as directors of the Company.
The existing strategy of the business will remain and the Board, when enlarged, will pursue additional investment opportunities, particularly in the financial services sector.
Tudor Davies commented, "We are delighted to welcome Martin Gilbert, Peter McKellar and Toscafund Asset Management as major shareholders in the Company. We look forward to working closely with them to create value for all the AssetCo shareholders by continuing with the current strategy and assessing other opportunities as they arise."
Martin Gilbert commented, "We believe that the next few years will see significant investment opportunities in the financial services sector as some of the pressures that the industry faces from regulation, fee pressure, technology and changing client preferences force further, and arguably a faster pace of change. We believe that AssetCo can be a platform to make strategic investments across the sector and to bring active management to such opportunities."