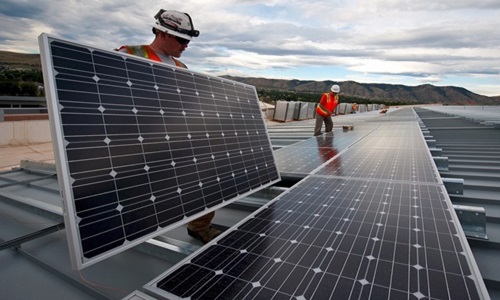 LONDON: US Solar Fund Plc has executed binding agreements to acquire up to a 50% interest in a 200 MWDC operating solar plant located in the Imperial Valley of Southern California, Mount Signal 2 (MS2, the Project), for a total price of between $44 million and $46 million.
The Transaction is structured in two tranches. Tranche One comprises an immediate acquisition of an initial 25% interest for a fixed price of $23m and is expected to be completed during the first quarter of 2021, subject to customary third-party consents.
Tranche Two consists of an option for USF to acquire a further 25% interest for $22m subject to a performance-based adjustment mechanism which can adjust the price upwards or downwards by up to $1m. USF may exercise the Tranche Two option for up to 12 months from Tranche One completion, with Tranche Two completion subject to the same customary third party consents as Tranche One.
On completion of Tranche One of the Transaction, USF's total portfolio will be 493 MWDC of fully operational assets in five states of the US, with a weighted average investment-grade PPA term of 15.6 years.
USF will acquire the investment in MS2 from New Energy Solar Fund (NEW), an Australia listed (ASX) solar fund, also managed by USF's Investment Manager, New Energy Solar Manager. NEW acquired MS2 at construction-ready stage in 2018 and announced in late 2019 that it was contemplating a sale of up to a 50% interest in the Project.
MS2 was built during 2018 and 2019 by Swinerton Renewable Energy, a leading US constructor. The Project uses First Solar Series 6 modules, with operations and maintenance services provided by First Solar Energy Services under a long-term contract. MS2 has a 20-year PPA with Southern California Edison (SCE), that commenced in June 2020.
Under the PPA, 100% of the electricity generated by MS2 is sold to SCE at an annually escalating price. SCE (S&P: BBB), a subsidiary of Edison International, serves a population of more than 15 million people and is the primary electricity provider for central, southern and coastal California.
Co-investments in solar power assets like MS2 were contemplated at the time of USF's listing and initial public offering. To ensure arm's length terms, the USF and NEW boards each adopted a Transaction-specific protocol, with each board retaining independent advisors. USF was advised by lawyers Herbert Smith Freehills in the UK, and Troutman Pepper in the US. USF also engaged its US valuer to provide an independent, external benchmark for the Transaction price.
USF will fund Tranche One with available cash. As Tranche Two is an option in USF's favour, the funding source for Tranche Two will be announced if and when USF decides to exercise the option.
Commenting on the transaction, Gill Nott, Chair of the Company said: "The Board is pleased to add an initial 25% of this large utility-scale asset to USF's portfolio. MS2's long term, investment-grade, escalating-price PPA brings USF's weighted average remaining PPA term to almost 16 years and provides further diversification in terms of geography, project and PPA offtaker to the portfolio. As a result of the Transaction, 100% of USF's IPO proceeds have now been invested or committed to operational projects and we look forward to continuing to offer investors the opportunity to participate in the attractive US solar market".
US Solar Fund plc listed on the premium segment of the London Stock Exchange in April 2019, following its successful $200m IPO. The Company's investment objective is to provide investors with attractive and sustainable dividends with an element of capital growth by investing in a diversified portfolio of solar power assets in North America and other OECD countries in the Americas.
The Company acquires or constructs, owns and operates solar power assets that are expected to have an asset life of at least 30 years and generate stable and uncorrelated cashflows by selling electricity to creditworthy offtakers under long-term power purchase agreements (or PPAs).