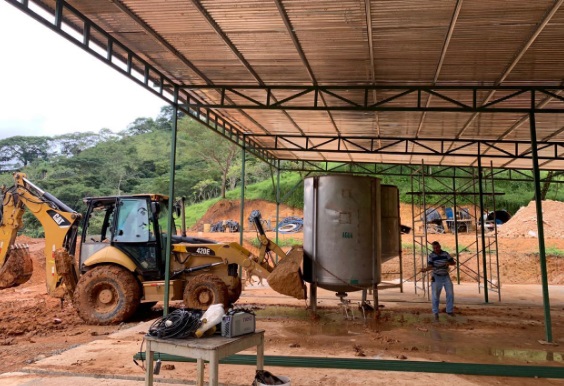 VANCOUVER: Newlox Gold Ventures Corp. announced that it is implementing its plan to re-start gold production at its environmental remediation and precious metals production facility in Costa Rica.
Gold production operations at Plant 1 in Cost Rica were suspended earlier in 2020 following an alarming increase in COVID-19 infections in Costa Rica.
Management has since then been working closely with local stakeholders to develop a plan to both re-start gold production and enhance the Company's operational capabilities. Given the necessary summer-long pause of operations, management elected to disassemble, move and re-assemble Plant 1 at its newly acquired nearby location adjacent to the Company's recently announced Boston Project (Plant 2).
The new larger site allows for a future increase in the project scale. It also accommodates both the Company's enhanced laboratory and base camp and is closer to the artisanal mines and sources of tailings feedstock.
The new location reduces transportation costs, enhances project logistics, facilitates production growth, and increases site security. Additionally, the new location is outside of the local municipal limits, reducing COVID-19 related concerns and enhancing the safety of personnel.
There-assembled Plant 1 benefits from the robust infrastructure enjoyed at the previous location while adding significant advantages. Itis accessible by municipally maintained roads, is connected to renewably sourced grid electricity, and is easily accessible for local emergency services.
Newlox has made significant progress in re-locating Plant 1. Site stability analysis, archeological studies, and environmental studies were completed, and building permits issued. Re-assembly of the plant is well underway. Management expects to re-start gold production in early-October.
Once re-started, Newlox will immediately begin ramping-up operations at the first processing plant. At full-scale operation, Plant 1 will be capable of processing 80tonnes per day of material grading +9grams per tonne gold with an anticipated gold recovery of approximately 90%.
A Message from Ryan Jackson, President & CEO: "This year, we have all faced unforeseeable challenges, and we have been called on to adapt to the changing landscape as we continue to progress and meet new challenges. We at Newlox determined that our strategy would be adaptability and decisive action.
"Although there was no way to predict the trajectory of COVID-19 in Costa Rica, our management team decided to take advantage of the unscheduled shutdown to execute our long-standing plan to move the first proof of concept processing plant to a more favourable permanent location, to support the Company's longer-term growth objective.
"The overall plan is approved by the regulators, allowing us to re-start gold production at Plant 1 very soon. We are excited to re-start the ramp-up of gold production at the first processing plant and have set a goal to achieve full-scale productivity in the first quarter of 2021. Newlox Gold is also progressing at its recently announced Boston Project (Plant 2), where development work is already underway. Management looks forward to adding strong production growth at Boston (Plant 2), which we expect to begin production as Project 1 achieves full-scale operation. Newlox Gold also has multiple expansion projects in due-diligence, and we expect to announce our third project early next year."